(Amrit Pal Singh 'Amrit')
(See more pictures of Gurdwara Sri Dashmesh Asthan, Nahan)
On invitation by King Medini Prakash of Sirmaur state, Sri Guru Gobind Rai Sahib Ji, the 10th Guru, reached Nahan, the then capital city of Sirmaur state on 17 Vaisakh in Samvat 1742 Bikrami (1685). Guru Ji reached there with all of his family members and lots of Sikhs.
At an altitude of 9,32m, Nahan is a well-laid out picturesque city, situated on an isolated ridge in the Shiwalik hills. Presently it is the district head quarters.

A view of Nahan city from about 10 kilometers
The place, where Guru Ji lived during his stay in Nahan city is not far from fort of Nahan, the residence of King Medini Prakash. A Gurdwara Sahib, Gurdwara Sri Dashmesh Asthan Patshahi 10, has been built on that place. Sri Guru Granth Sahib Ji is installed exactly on the place, where King of Kings, Sri Guru Gobind Rai Sahib used to sit on his throne.
The ladies of Guru Ji's family stayed inside fortress of King Medini Prakash.
King Medini Prakash built a 'Borha' (small well) to fulfill water requirement of Guru Ji's camp. This historic 'Borha' still exists.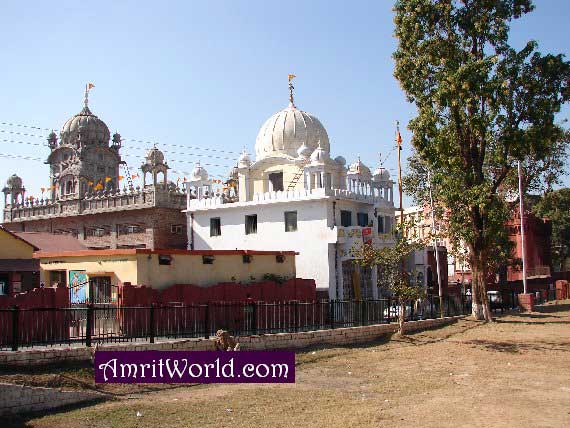 Gurdwara Sri Dashmesh Asthan, Patshahi 10, Nahan
According to local tradition, Guru Ji stayed in Nahan for more than 8 months. King Medini Prakash requested Guru Ji to found a new city in his Sirmaur Kingdom. Guru Ji accepted his request and founded a city, which is now known as Paunta Sahib (in present Himachal Pradesh).
A fortress was built in Paunta Sahib and then Guru Ji shifted to Paunta Sahib. King Medini Prakash used to visit Paunta Sahib to meet Guru Ji.
Sri Nagar (Garhwal) was a neighboring state of Sirmaur state. The king of Garhwal was Fateh Shah. Fateh Shah had occupied a few villages of Sirmaur state. Guru Ji mediated and the dispute between King Medini Prakash and King Fateh Shah was solved.
King Medini Prakash and King Fateh Shah would go to hunting with Guru Ji. One day, Guru Ji killed a big lion with a single blow of his sword. King Medini Prakash saw this with his own eyes. He was very much impressed with Guru Ji's skill of hunting. (Gurdwara Shergah Sahib is built where Guru Ji killed the lion. It is about 4 kilometers away from Paunta Sahib).
King Medini Prakash requested Guru Ji to give the sword, which was used to kill lion, to him as a memento. Guru Ji happily gave his sword to King. This holy sword of Guru Gobind Rai Sahib Ji is now preserved in city of Jaipur (Rajasthan) by Ms Padmini, present scion of Sirmaur state.
Gurdwara Sri Dashmesh Asthan Patshahi 10 is the only Gurdwara in Nahan city. Sikh population is very small in the city, but they regularly visit Gurdwara Sahib and do every kind of 'Seva' (service) to the Gurdwara Sahib. A few small and local Sikh organizations exist in Nahan. All major Gurpurbs are celebrated at Gurdwara Sri Dashmesh Asthan Patshahi 10, Nahan with love and devotion.
I have visited Nahan city for so many times. The last time I visited Nahan was in first week of December, 2008 during one of my Research Tours. A new 'Diwan' hall was being constructed at that time. Gurpreet Singh Sandy, a member of Team Amrit World, joined me during my research tour.
How to reach: Nahan is a famous city in Himachal Pradesh, India. It is connected to Paunta Sahib and Kala Amb by roads. Bus service is easily available. Nahan is only 16 Kilometers far from Kala Amb. The distance between Paonta Sahib and Nahan is 42 Kilometers.
From Dehradun: Dehradun => Paonta Sahib => Nahan
From Chandigarh: Chandigarh => Narayangarh => Kala Amb => Nahan.
(See more pictures of Gurdwara Sri Dashmesh Asthan, Nahan)